Angie Kang
Digital Product Designer

The Almond Board of California
Almonds.com


"A world-class website that delivers on all fronts – content, searchability and an overall aesthetic and design that invites visitors to stick around and return frequently"
— Jenny Nicolau, Senior Manager of Industry Relations and Communications at The Almond Board of California
How It Started


In 2019, Deutsch LA was tasked with redesigning Almonds.com for The Almond Board of California.

We started by conducting in-depth research to understand the almond industry and interviews with stakeholders. The Almond Board of California represents a large community of almond growers, vendors, and researchers across the world.



Content Strategy

The challenge for Almonds.com was simplifying a legacy website with over 200 pages. We took a look at all of the current content, cleaned it up, and translate it over to the new platform while bringing everything up to date. We worked closely with an SEO partner to determine key pages to keep.

We had to create new audience segments in order to remove redundancy and streamline information. I took a hands-on approach by printing every page on the website using an online extraction tool. Each page was then grouped by common topics, and sticky notes were used to identify them.



CONTENT RE-ORG PROCESS



This process allowed us to narrow down the main categories that became the new site architecture. While rewriting all of the existing site content was not realistic, we were able to combine sections and clean up the copy to make Almonds.com a critical source of information for almonds.

Our core users can be characterized by 2 groups:

Almond Consumers
Almonds Professionals

Almond Consumers consist of those who buy almonds or want to know more about their nutritional value and environmental impact. Almond Professionals consist of those who worked in the industry, including farmers and nutritionists. In order to improve wayfinding and searchability, we combined content into broader sections so that anyone could navigate the website with ease.


Atomic Design


The Almond Board of California needed an easy way for their content writers to update the website ad hoc, so we created an atomic design system that turned almonds.com into a world-class publishing platform.



Templates

The templates and components were defined by the content needs and close collaboration with stakeholders who had a vision on how the content should evolve.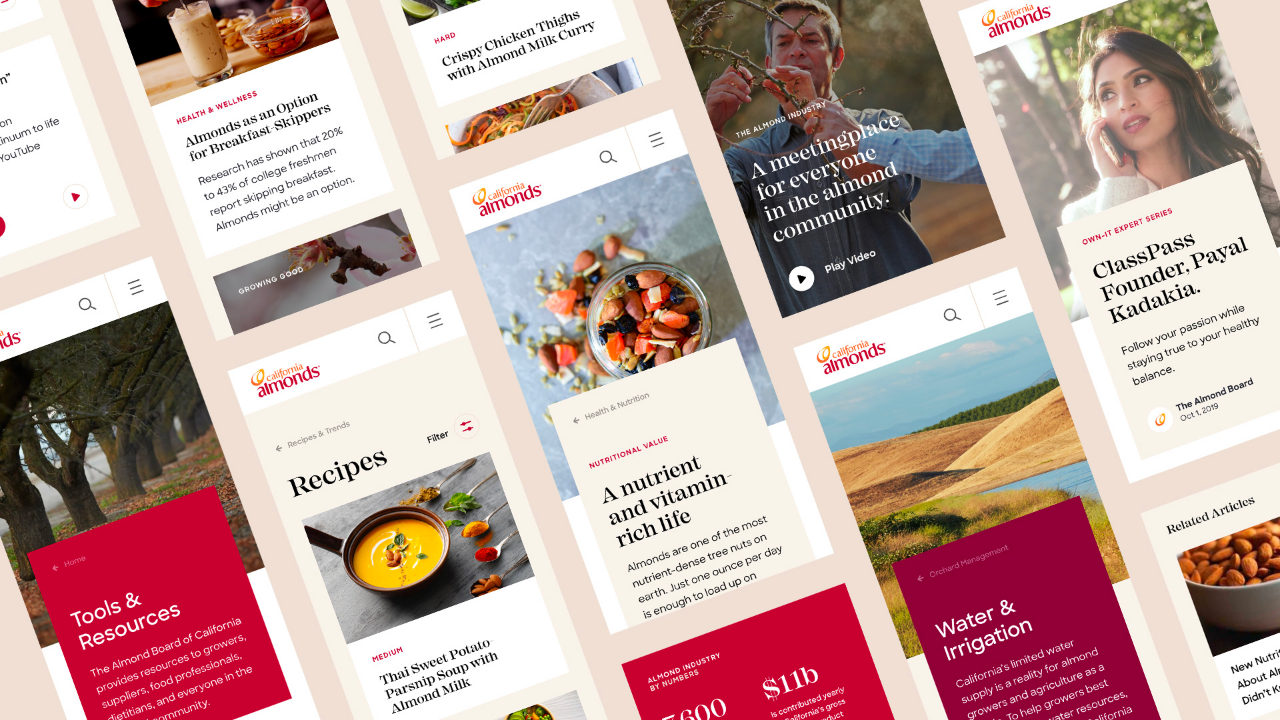 User Testing

We conducted remote user testing over the course of 2 weeks with about 20 individuals by sharing a prototype link and having the users share their screens. For Almond Professionals, we asked questions about their profession to understand how they use the website and what information was most important to them so that we could create a website that would become a useful tool for their work. For Almond Consumers, we probed to understand what kind of content they would like to see and how they felt about the overall look/brand of the new website.




---